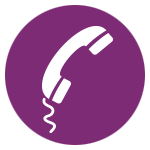 Methodological approach and project management, namely coordination and management of the activity, are essential to ensure the efficacy of actions to the desired level: the contact generation can be carry out both in the short, lead, and in the long term, demand.
The process can be carry out in various phases or the client can decide to develop some of these:
Data Enrichment is an activity that allows you to qualify /update the customer by collecting, through a telephone/paper questionnaire, a set of relevant variables to assess the real potential of the company for the customer and implement high-perfomance marketing campaigns. Data enrichment becomes a valid opportunity to establish a "personal" bond with the contact, trying to grow up the trust that allows him to buy the service/product, to reward him if top customer, to recover him if he's at risk of abandoment. Database becomes an accurate, precise and, above all, valuable tool to proceed with the development of

data-driven marketing strategies

.

Demand Generation

it's different from lead generation, indeed this is part of it. It's based on inbound and outbound marketing, on lead generation, on lead nurturing; it's a marketing strategy on a holistic basis, in fact to build sustainable and durable relationships with the customer includes various marketing methods to achieve a direct impact on revenue. Normally it's a process that sees employees in a long period.



Lead Generation

means "working" a prospect database in order to generate opportunities for the customer; in essence it's the classic appointment taking. A good data enrichment or a push&pull, if preceded or accompanied by a precise profiling, even better combined with a dem, are tools that can ensure a satisfactory redemption to the lead generation activity. The leads can be divided into various segments, based on the needs that emerged during the call.



Lead Nurturing

the lead, once identified, must be cultivated. It's essential to keep the link alive, nurture the relationship, communicate one-to-one, in orde to convert leads into a real customer/user. It's a phase that can be managed in multiple ways.
These activities require: project management, briefing and start up activities, script writing, preparing the database structure for interviews, inbound/outbound telemarketing, data enrichment / lead generation / telephone recruitment on assigned or acquired lists, sending/receiving emails including personalised emails, management of agents' appointments, reporting during the period of the project.
The activity is carried out in compliance with the current privacy laws (new GDPR).
---
CASE HISTORIES
Read more about our working methodology