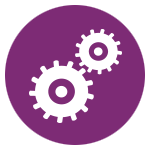 Organisation and consulting of webinar, events and seminars: it's a strategy of marketing that has been used for a long time, alternated with training courses and/or round table.
Mailing – E-mailing

of the save the date,

of the invitation to the event, of electronic or paper material such as the brochure of presentation of products/services/

exhibition spaces

, as well as the reception of the application forms or purchase of the stands
Recruitment

of the topic target,

of exbhitors and visitors, offering also the creation of both lists and related profiling
Push

to "push" participation and

to limit the drop
Organizational secretarial services either outbound or inbound with a specific telephone line dedicated to the marketing campaign and/or the client's email; in general it's dedicated to important events, where the slots can be reserved and limited and the dresscode defined; to a support also required at other times than the ordinary; to manage particular requests (important summits with the possibility of various activities for accompanying persons) and agendas for one-to-one meetings; for any problems of access, login, link for webinars
Webinar through the best platforms, with 360° support for the pre-post event phases (sending emails, form setting, landing page setting and personalization, "off list" data entry, moderator, surveys, lead generation, possible web agency for technical aspects, etc.)
Data entry
Post-event activity (

redemption 

calculations and results analysis)
Support in other activities to organise media conferences, location selection, management of payments through EFT or credit cards through online platforms, support for advertising campaigns and communication tools, support with hostesses and security, to supply a complete service for marketing events and seminars.
The activity is carried out in compliance with the current privacy laws (new GDPR).
---
CASE HISTORIES
Read more about our working methodology